A chick called "Pooh Bear"
Writtten by: Laura Claus
I met William as a global intern in Guatemala for One More Child in the summer of 2011. He was just 2 years old, but already had his own personality forming! William was in what they called the pollos – the Spanish word for "chicks" – the group of children at the Malnutrition Center that were 2-3 years old. I was assigned to help oversee this group and boy were they a rowdy group of kids who liked to play and laugh. William was no exception, as he was always taking on some new adventure or climbing something, not afraid to challenge the other kids! Yet, William was also sweet, as he was affectionately called "Pooh Bear" by staff. I loved getting to know William and spent time with him for six weeks, where he often made me laugh.
During my last day as an intern at the center, the children were given new shoes. I remember helping William switch from his old, worn out pair of shoes, with stains and tears, to his brand-new shoes. It was such a simple but beautiful moment that nearly brought tears to my eyes. Instead of throwing away William's shoes, I brought them home with me where they have sat on my dresser for the last seven years. They remind me of the little pollos joy, William's laughter and the goodness of the Lord I saw at the center. The shoes also remind me to be thankful for what I have and to rely on God to provide, just as He provided new shoes for William that day.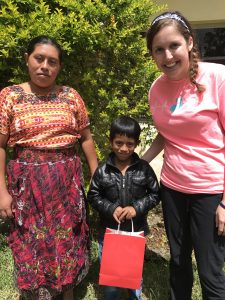 Fast forward from the Summer of 2011 to the Fall of 2017; whose name do I see come up on the sponsorship list? William! I was so excited to read about his family's background, to see how well he was doing thanks to God's provision and that he was available to sponsor (I had been wanting to become a child sponsor for a while). I was able to become William's sponsor and, in the Fall of 2017, after God brought our church back to the center for our annual visit, I was able to see William and meet his mother.
What a joy it was to see this small boy I loved growing and learning in the Lord. It was so fun hearing William talk about his life – his likes, dislikes, hopes, dreams and his life back home with his family. It was a gift to see how the Lord had worked in William's life through One More Child from the time he was 2 years old until I saw him again at the age of 7! I was also blessed to chat with William's mom and get to know the brave woman who gave her child the best chance to survive and thrive.
God is teaching me about joy, faith and steadfastness, as well as His provision through the relationship I have sponsoring William and knowing his family. William and his family are an encouragement to me and a constant reminder that through Christ, we have truly been given all that we need. William's shoes are still on my dresser years later, but now they sit next to a picture that William drew for me in his last sponsor letter. Both bring me smiles and remind me to pray with thankfulness!
Sponsor a Child Today!
Child sponsorship 

is making a true difference in the lives of one more child each and every day 

around the globe!