Team: 2nd Baptist Church of Jacksonville, AR
Written by: Lauren D.
From September 29th until October 5th, our team from Jacksonville, AR, Fayetteville, GA, and Los Angeles, CA came together to serve with One More Child in San Juan, Guatemala at the Malnutrition Center.  The center was a place where parents could lovingly bring their children to receive nutritional rehabilitation when they could not properly provide for them in their home.  There was also a part of the center that provided preschool education for parents who did work and needed a safe place to take their children during the day.  Our team ranged in age from 10 years old to 79, with many different talents and abilities, yet we all bonded and worked together in a way only God could orchestrate.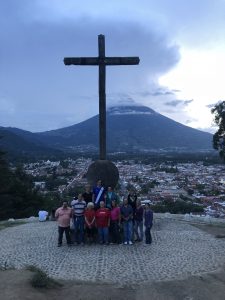 The first day we arrived at the center, it was the national Children's Day and the day care put on a party for the children, complete with lunch, dress ups, games, cake, and of course, a piñata.  This was a fun way to kick off the week, playing with the kids and getting to know their little personalities.  The rest of the week consisted of much of what you would find in any preschool around the world, with circle time learning colors and shapes, outside play, and lunch and nap time.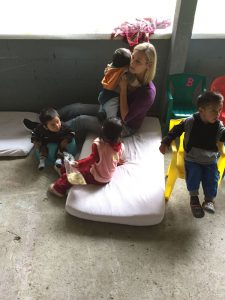 As volunteers in the classrooms, we assisted the nannies in cleaning, serving, and running the kids to the bathroom or helping with nap time.  I found that serving at the center was as much (if not more) for the nannies as for the children, because they have a long work day and much is expected of them.  Because we were able to come alongside them, we were able to free them up to focus on teaching the kids without as much interruption.  One of our team is a worship leader and he brought his guitar so that he could provide music for worship in the children's rooms as well as for the nannies on their lunch.  He also led them in Bible study and deep conversations about God.
Those that worked with the very sick babies had full days of diaper changes and crying children who needed snuggles and comfort.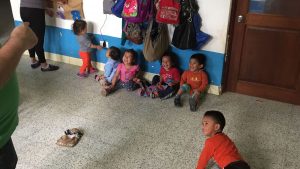 They were able to play with and show true love and compassion with each smile, coo, and pat.  The children do have loving parents, but when they were rehabilitating at the center, they were missing their families, and our team was able to provide the attention and comfort they craved, as well as many bottles, snacks, and vitamins. 
On the Wednesday of that week, we had the privilege of witnessing a sponsor day, where the families that had their now healthy children back in their homes were provided with a basket of food, which included a palette of eggs, 5 lbs of rice, 5 lbs of beans, 4 lbs of sugar, a box of cereal, and a few other necessities for the month.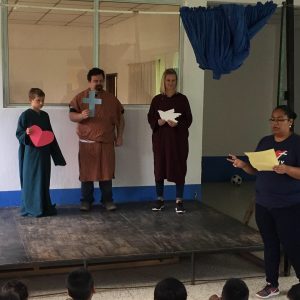 The sponsor's $35 a month goes towards caring for their child and the child's family, so that they do not risk falling back into hunger or being malnourished.  Each family arrived early in the morning to receive some education about health and nutrition, hear the gospel, and then receive their food basket to take home.  On that day, we were able to minister to the older children by playing outside with them and providing a snack and water while their parents listened to the training and were able to experience a time of worship.  
I am blessed to have been a part of this experience, but what I hope more is that the people of Guatemala experienced the love of Jesus through us.  This trip was not for me or my spiritual journey.  It was an obedient response to go into all the world and serve others as we ultimately serve Him and further God's kingdom.  I now have a sponsor child I will financially and prayerfully support, specific ladies I can pray for, and ultimately, many, many children who have my heart. I can now lift all of these specific people and needs up in prayer, not just for their physical health, but more importantly, for their spiritual nourishment.