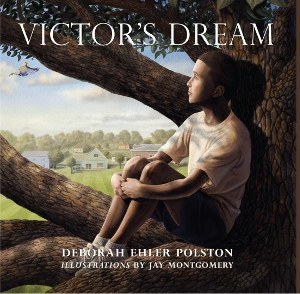 Hope, Compassion,
and Biblical Truth
Author Deborah Polston partnered with Florida Baptist Children's Homes and the Leslie and Bonnie Trawick Foundation to make the inspiring Victor's Dream children's book available. Victor's Dream carries a strong message of hope and compassion, combined with real-life application using biblical principles and truths.
Victor has spent his entire life in and out of foster homes, and now lives at Safe Haven Children's Home with his younger brother and sister. Things are better than they used to be, but it's not easy being different. Victor loves to escape and climb high up in his favorite tree, sometimes dreaming of flying far away to live in a normal neighborhood with a normal family. But one day, Victor closes his eyes and wakes to find himself in another land and time! Soon, he makes a new friend, Joseph, who finds himself in trouble and far from his own family. With Joseph's help and guidance, Victor faces his own challenges and trials, and learns an important lesson about the goodness and faithfulness of his heavenly Father.
By reading this book, your children will be inspired to grow in their Christian faith and have compassion for the orphan.
Victor's Dream Devotional Curriculum
You can also supplement your reading by downloading the FREE Victor's Dream devotional curriculum.
Download Now
Some Great Reasons to Buy This Book:
For every book bought, another is gifted to a child in foster care.
The book teaches children the biblical lesson of taking care of orphans in their distress. (James 1:27)
Victor's Dream is a great gift to give for the celebration of a child's adoption.
The book teaches children to seek God's help in overcoming hardships beyond their control.
Purchase Victor's Dream
You can purchase by phone (863.687.8811) or email at Children@OneMoreChild.org.
Save on shipping costs by picking up a book at any of our main campuses. You can also take advantage of our flat shipping fee of $5.00 for up to 5 books.
By purchasing a copy of the book today, you can be a part of an incredible opportunity to help give hope to children who desperately need love and compassion! This beautifully illustrated book will be gifted to 20,000 of Florida's foster children compliments of the Leslie & Bonnie Trawick Foundation and Florida Baptist Children's Homes. It is our dream to make this book available to foster and adopted children throughout the United States.