Team: Students from Christ Journey Church in Coral Gables, Florida
Written by: Ari, Xochtil, and Christian G.
Hey y'all, it's Ari and Xochitl, and today (March 29th) was our last day with the children of El Carrizal. Waking up this morning was pleasant. We have been the only girls to go up to the rooftop every morning of this missions trip, and, as usual, did it this morning as well. Looking at the sun break through the clouds as the stars say goodbye was a true blessing. Eventually, we went down for breakfast, which was cooked by Ivelisse, and I (Ari) led our time of devotion. After that, it was time for us to mount the buses and get ready to head to Villa de Esperanza in El Carrizal. We spent a joyous morning with the kids and their families, and we were able to provide them with a meal and clothing that was donated by other people prior to us. We eventually broke off and did different acts of service like going door to door preaching, finishing up painting the walls of the church, and giving the homeowners the deeds to their homes. There is so much that we would love to share with you all, but as we said, there is so much! What really hit us, though, was the goodbyes.
Ari – The first day I fell in love with a seven-month-old baby named David who I unfortunately had to say goodbye to. It has been a while since I cried as much as I did today! I know that he will always be in my heart, and my hopes are that I will eventually sponsor him. Today was also amazing because, thanks to God's glory and power, a small group of team members and I were able to witness a woman accept Christ, which was beyond anything I could have hoped for. I will never forget this trip and the amount of work God did through us!
Xochitl – This entire week I was thinking about how I would manage the events of the last day, and then it came. The day went by so fast, and it felt like I was not going to be able to do all the things I wanted to do. Being tired was also a huge factor. I fought through my fatigue so that I could spend all of the time I could with the children of El Carrizal. Those children taught me so much that I feel like they did more for me than I did for them! I believe that God has not finished with the community of El Carrizal and that He is not finished with the youth of Christ Journey.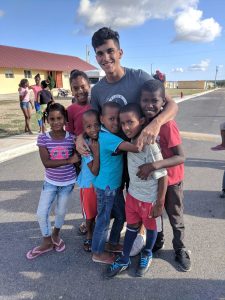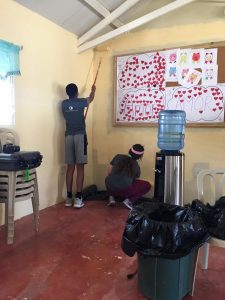 Christian G., Leader – Above and beyond what we could ask, think, or imagine is what the Lord did for His people this week! Joy overflowed in our hearts. His Holy Spirit filled us as Rivers of living water poured forth. We were so blessed and privileged to have participated in doing the Lord's work. Amen.
This blog post was re-shared with permission from Christ Journey Church, Coral Gables, 2019. If you want to see other stories from this trip, go to https://www.christjourney.org/blog/missions/ .