By Brent Wernsing
Pastor of Kairos Church and One More Child foster parent with his wife, Christine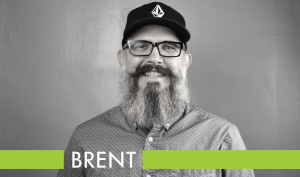 17 Hours. That was the amount of time we had one of our foster placements
17 hours. In that amount of time, so many emotions were felt and so many things took place that will forever affect this child and his family.
He arrived at midnight and didn't want to go inside. His now closest friend and the only connection to his family was the child protective investigator (CPI) who dropped him off. He did not want to let him leave. So we sat on the porch.
I tried to ease my way into his constant cries, shouts, and whimpers. He would say things like, "I don't want to stay at this house. I don't want to stay with these people. I want my sister, I want my sister, I want my sister. I want my blanket. I want to go home. I DON'T WANT TO STAY WITH THESE PEOPLE."
He didn't want food. He didn't care about our cat. He didn't want sweets. He didn't even want slime, which he made clear by throwing it at the window.
I continued to talk, and ask questions. He continued to whimper, cry and look around, lost, confused, and scared.
We finally made our way inside, because well, he had to pee. I showed him where, so I was helpful. He didn't want to flush, he didn't want to wash his hands, he rushed through it and quickly wanted to get his eyes on the man who brought him there. HE DIDN'T WANT HIM TO LEAVE. He was his last hope to get back to his family.
I kept him inside with an excuse that I didn't want him getting bit by mosquitos. The man who brought him stayed outside. So he made me open the blinds so he could see him.
We finally sat on the couch. He wouldn't take his shoes off. Still refused to eat and said NO to everything.
It was 1 a.m.
I continued to attempt to connect with him. He told me he had his own phone. So I asked what he liked to watch. I couldn't understand. So, I put on PJ Masks. He let down his guard and inch by inch he begin to snuggle in, he began to get comfortable, he began to feel secure. The whimpers and cries ceased but he still wouldn't take his shoes off.
We sat on the couch and watched PJ masks for another 30–45 mins. He finally let me take his shoes off. I dimmed the lights, he continued watching and 15 mins later he was finally ready to go to sleep, but on the couch. He wasn't interested in seeing the house, or the bed we had prepared for him or knowing where anything was. He wasn't staying. He slept on the couch.
So I decided to grab a mattress from upstairs, brought it downstairs and slept on the floor next to him because I didn't want him waking up, not knowing where I was or how to find me.
It was 11 a.m.
He slept all night. He woke up happy. He got to meet our kids but still wasn't hungry.
It was time to go to the courthouse. Time to find out what was going to happen and for him to see his family again. He was grinning from ear to ear that he was going to get to see his sissy and his mom. This is all he wanted.
It was noon.
During the few hours that followed I was filled with so many mixed emotions.
There was joy when he was reunited with his family. But that was quickly replaced by anger, by compassion, by sadness, by grief, by anxiousness and by confusion.
We all waited outside as mom went in to talk to the judge. Moments later she burst out of the doors crying… the children would remain removed from her for the time being; she was upset and the older children knew immediately what was happening. The hall of the courthouse waiting room was quickly filled with feelings of sadness, anger, bitterness, and rage.
It was 2:15 p.m.
It was time to go. And the whimpering, crying and wailing that we had experienced only hours early, all came flooding back. He didn't want to go with us. He didn't want to stay at our house. He wanted his mommy. He wanted his blanket. He wanted his sister, his aunt, and his brother. He didn't want us.
Mom said her tear-filled goodbyes and got on the elevator. He got on the elevator with us, held by another family member. We were headed downstairs to get his blanket and leave.
He was reunited with his blanket and there was a brief moment of satisfaction, which quickly passed as he was told he HAD to go with us. He was handed to me, still clinching to his family member and crying out, "I don't want to go with them!".  I held him tightly and lovingly in my arms. I wrapped him in his blanket. As I walked away I reassured him that he would see his mom soon, that he would see his sissy, his aunt, and his brother soon.
He screamed louder. He cried louder. He punched me. He ripped my hat off and threw it. He wrenched my glasses from my face and attempted to throw them. He clawed my neck, my face, my ears, and continued to punch and kick. I continued to hold him, to comfort him, to reassure him. He wanted to go home and it was clear he didn't want to go home with me.
This happened for the entire walk to the car which seemed like 10 miles. I got him into his seat. He screamed some very unkind, unrepeatable things. He asked for his blanket. He fell asleep.
It was 3 p.m.
We got home. He continued to sleep on the couch. The case manager called. He was going to stay with his aunt and brother. We woke him up. We gathered up the things our church family had dropped off for him. I put him in his seat and I said we are going to see your aunt and your brother. He grinned from ear to ear.
We show up. He is joyful. He was with family. He is closer to being home. He is closer to being reunited.
It was 5:15 p.m.
Being a foster parent isn't easy… but for the brief 17 hours that we had this boy in our care, we were able to love on him in a time of great uncertainty.
We were able to minister to the family by showing them that we cared for their boy deeply and that we desired for him to be back with them. They also got to experience the love of our church family, showcased through unconditional generosity toward their son.
Being a foster parent isn't easy but it is ALWAYS worth it.
I can't pretend to see or know God's plan for a foster child or their family but I will never stop playing my part. I will never stop saying yes.
17 hours isn't much time but I fully believe that those 17 hours CAN lead to God working and moving in the lives of the members of this family.
#fostercare #fosterparent #lovethefatherless #foster