They didn't see me as just another kid in foster care, they saw me and loved me!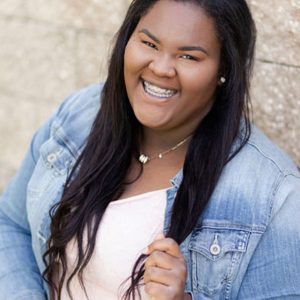 ,Precious…a beautiful name given to her at birth. But for most of her childhood, precious was not how she felt. At the age of 3 Precious' mom abandoned her family. Her father, although loving, was addicted to drugs and alcohol and often neglected to care for her basic needs. She would often go without food and electricity for extended periods of time.
During a drunken state, one evening her dad was driving a Moped and was struck by a minivan leaving him a quadriplegic. With no mother to help her, Precious began to care for her father.
"I felt hopeless and depressed. I longed for better, but I felt that it would never happen for me. I believed the lie in my head that I was unworthy of receiving the love and care that I saw available to others. I wanted the pain to end and I thought the world would be better off without me."
At the age of 13, Precious felt she could no longer handle the pain and attempted to take her life. Fortunately, she was not successful.
God used the worst moments of her life as a beacon for help. Child protective services discovered her living conditions, and she was removed from her home and placed into foster care. Precious bounced from one foster home to another, still feeling she did not belong. Her sadness turned to anger and fits of rage.
One day she visited Loft181, a clothing boutique ministry of One More Child. "Everyone there was so loving and kind. They gave me clothes to go to school. They celebrated me being a girl. I went to school feeling like I belonged, and I could make changes to better myself. They didn't see me as just another kid in foster care, they saw me and loved me!"
Through the continued love and support of Loft181, Precious was invited to church where she learned about the love of a perfect Father. Precious made a decision to trust Jesus as her Savior and He became her FATHER! Her desire to belong to a family was now found in Jesus. The boutique manager of Loft181 took her in and became her mom through adoption! Because of Loft181 and One More Child, Precious now has a forever family and a place to belong.
Precious recently shared her story with over 500 people at the Hope to 5K run to raise money for One More Child to help other children like her.