On the Other Side of Yes
Written by: Megan H.
This week, I'm privileged to be in Guatemala with One More Child, serving alongside a team at the Malnutrition Center in San Juan, Sacatepéquez.
One of our jobs each day is to wake up the daycare children from their afternoon naps. Today, our team walked into the preschool room and placed a drink in front of the child, but he wouldn't wake up.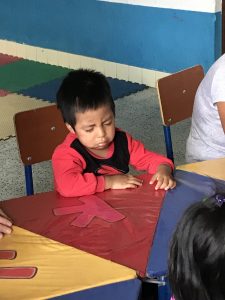 This little boy was so set on remaining asleep, conserving his energy, he was missing out on the comfort and drink on the table in front of him.
It struck me, then, that I live my life much the same way.
In fact, two days before, our team had the opportunity to go zip-lining in the mountains of Antigua. I wanted very much to experience this, but then I was told that this adventure included hiking quite a bit up a mountain. I immediately said, "I'm not sure I want to expend the energy for that reward."
Luckily, I chose to move outside of my normal response.
I spend my days feeding my family, cleaning my house, working a full-time job, studying for a graduate degree, and exhausted, too tired to spend time with the Lord or engage in activities to minister to others.
But what am I choosing to miss in order to conserve my own energy, my own comfort? Like the little boy who refused to wake up for a nutritious snack, my deliberate choices to zone out each evening have kept me from the true sustenance of the Bread of Life, of the Living Water.
If I, if you, if we, decided to move our focus from our own comfort to the needs of the world around us, how great would our reward be? How much more would we be filled by the Father in order to pour out to others? I'd hate to miss the reward, the nutritious snack, waiting on the other side of my "yes."