With a voice as warm as an African tropical breeze, and a countenance as cheerful as a toddler who just discovered he could crawl, Dison Bumba is a constant reminder of God's redemptive love to the children we serve in Uganda.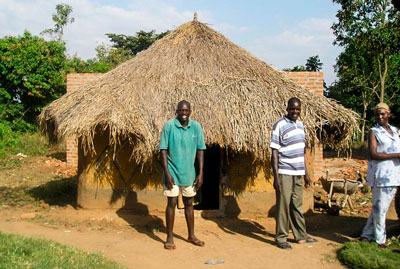 He is nearby as hundreds of sponsored children receive hot, nutritious meals; he is on the campus of our primary school where a new generation of leaders is being formed; he is with the children in worship as they exalt the name of Christ through lively dance and song.
Known simply as "Bumba," the 33-year-old Uganda native is our national ministry coordinator for a region of the world where God continues to grow our ministry and programs, including mission trips and child sponsorship.
"Every time we make profiles for someone to choose a child to sponsor I see a blessing that God is bringing to our country, to our continent and to the world," says Bumba.
Every time Bumba sees a sponsorship profile, he also sees himself.
Bumba is the youngest of 12 children. When Bumba was just six his father passed away, and he and his siblings took it upon themselves to care for the family.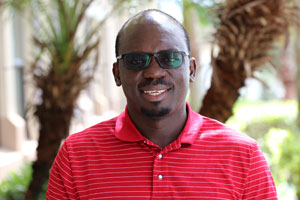 They lived in a small grass hut without electricity and running water, and food was a luxury that was hard to come by.
At 7 years old, he and his 3-year-old nephew began tending cows deep in the jungle, overcoming the fear of thorns, snakes and other wild animals they encountered daily, because the alternative was to go hungry.
When it seemed like only a miracle could sustain a family that didn't know where ample food or access to education could possibly come from, the gift of child sponsorship arrived.
One day, an American lady from nearby drove past the land where Bumba and his nephew were tending to the cows. Scared and frazzled by an unknown visitor, the kids ran off, but eventually the lady known as "Miss Katherine" connected with them, and they realized that reality was much kinder than their fears.
Katherine Hines is the founder of Hines Ugandan Ministries, a valued ministry partner who we still work with to transform lives of children and families.
Soon after meeting Katherine, Bumba received word that a family from Colorado had decided to sponsor him by providing a small monthly financial gift to help him have the access to food, school, medical care and more.
Communicating with his sponsors, Linda and George, through letters, was a lifeline that Bumba says was one of the greatest blessings God has given him.
Their sponsorship enabled him to finally enroll in school, and he performed well enough to be accepted into college.
Eventually he earned a bachelor's and master's degree in environmental science from Uganda Christian University, becoming one of only two individuals in his entire community to earn such an advanced degree!
On top of that, his sponsors raised money from their friends that allowed him to build a safer, more sustainable house – a home that he and his family are living in and thriving in today.
"I was able to get my first mattress, I was able to get very nice bed sheets and a blanket. Oh my gosh, this was one of my best memories in my lifetime," he said.
Today, Bumba has the privilege of delivering such mattresses to kids as part of being sponsored by One More Child.