Ten-year-old Trevion is like most kids his age. Put a basketball or a video game controller in his hands and the usually shy boy comes alive. What makes him different from many of his peers, however, is he understands the uncertainty and fear that comes along with being homeless. He understands because, for a time, that was reality for him and his mother, Renyya.
Trevion was approaching his ninth birthday, when he and his mom went to stay at an emergency shelter. He doesn't remember much about the experience, but he does remember the feeling of isolation – of being stuck and needing help but having no one to turn to.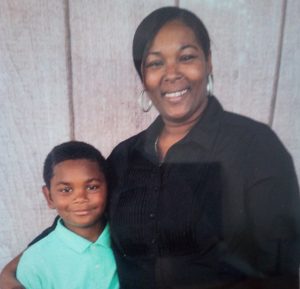 The only sure thing in that time was his mother, her steadfast prayers and unwavering belief that things would turn around. So, Trevion believed too. Eventually, their faith paid off with an opportunity to live in a safe, comfortable home through One More Child's Single Moms program.
The move was a monumental step for the mother and son, but there were still challenges because their car was unreliable and their new home was further away from Renyya's job.
Without a working car, Trevion and his mom depended on friends to get around, and sometimes, they walked.
In the moments when it all still seemed like too much for Renyya to handle, her young son, who had inherited his mother's strong faith, stepped up as her greatest encourager.
"I raised my children to trust God wholeheartedly, and Trevion is no exception," Renyya said.
Trevion's encouragement helped Renyya persevere. She dedicated herself to utilizing the resources of our Single Moms program, including life skills classes where she learned to better manage her finances. The Single Moms program also gave Trevion something he needed – a supportive village and friends.
Today, Renyya and Trevion are enjoying life in a home of their own. Trevion loves zipping through their new community on the scooter he received from our friends at GEICO.
The company gave it to him the same day it also blessed his mom with a new car.
Even greater, God's faithfulness continues to shine in their family through Trevion's big sister, who, encouraged by her mother and brother's success, recently joined the Single Moms program.
It is pretty amazing what a child's faith can inspire and what God can do in the lives of those who believe.