By: Kristen Hitchcock
Executive Director, One More Child Single Moms
Mother of Hunter, Hannah, Hayley and Hayden
Mothers lead busy lives, but making time for self-improvement, rest and reflection is just as important as all of the many things we do for our families.
At One More Child, we want to empower women to do more than just survive motherhood, but to learn to THRIVE in it. Our new webinar and blog series for moms aims to do just that, by equipping mothers with practical wisdom, inspirational insights and a community of support. Because, let's face it – motherhood isn't always easy. It's filled with beautiful moments of celebration and exhilarating triumph, but also moments of harsh defeat and devastating loss.
So, how do we thrive at motherhood even when life hands us a big, fat "L?"
Well, first, let's determine what it means to thrive.
Jesus tells us that He came to bring us life and bring it abundantly. He also said, if we stay connected to Him, the Vine, we will bear abundant fruit, and this fruit consists of love, joy, peace, kindness, patience, and long-suffering.
With this in mind, I believe we thrive when we live our life in such a way, that no matter the circumstances or past experiences, we bear love, joy, peace, patience, kindness, and long-suffering, and others see the Glory of God. This is thriving!
"The problem many have with thriving is we do well to live abundantly as long as things are going well, but if we experience loss, we no longer know how to live.
You see, I learned what it means to thrive because of loss – the kind of loss no mother or family ever wants to experience: the loss of a child.
January 4, 2015 began like any normal Sunday in our household. We woke up as usual, I went for my last training run before my first marathon, and together, my husband Brett and I, headed off to church. Afterwards, we made our way to the town next door, which is home to my family's farm. We ate lunch, and our three youngest children played with one of their cousins. Once lunch was over, my husband and I left to pick up our oldest son, and our other three stayed back in the care of my mom and brother. As we headed back toward the farm, we received a phone call no one ever wants to receive. On the other side of the phone was my brother, in hysterics, telling us to get to the hospital immediately, because our youngest son had been in a horrible accident.
Walking into the hospital, we could see horror written on the faces of the nurses. "You can't go back," they said, "The doctors are working on your son."
"I dropped to my knees, and all I could do was breathe out the words, "Jesus, Jesus." As I'm praying these words out loud, a hand settles on my shoulder and another woman's voice begins breathing those same words into me, "Jesus, Jesus."
Eventually, the staff moved my family into another room to talk with the doctors. They informed us that our son had been without a heartbeat for a long time, but they found a faint one and wanted to send him by helicopter to another hospital in a larger city 45 minutes away.
In John 16:33, Jesus says, "I have told you these things, so that in me you may have peace. In this world, you will have trouble. But take heart! I have overcome the world."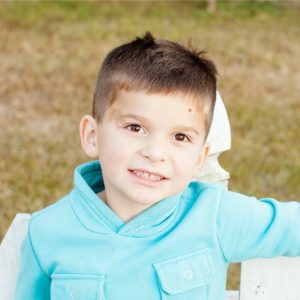 A peace rested over my husband and me as we rode over to the other hospital – one that can only be explained as the hand of God around us, comforting and encouraging us to see, no matter the outcome, He was still with us and would always be with us. That was our son's calling anyways. When I was pregnant with our youngest, a fear of the unknown gripped me, until God spoke His truth over us revealing the gift of this new life and how we should name him Hayden Emmanuel, as a reminder that "He (God) is with Us."
So, as we walked again into the unknown of this new hospital and saw the tears running down the faces of the doctors, we knew Hayden hadn't made it to live another day on this earth. Now, our youngest son was in the hands of Our Heavenly Father for eternity.
At this point, we had to begin to walk in a new season of life. We had to leave one child's body in a hospital to go tell our three other children that their brother wouldn't be coming back to our earthly home.
"With all of this mourning and grief, how were we supposed to thrive? How were we supposed to live an abundant life when a piece of our life was no longer there?
Jesus tells us in John 10:10, "The thief comes only to steal and kill and destroy; I have come that they may have life and have it to the full."
Everyone on earth has suffered loss in some form or another. It could be the loss of innocence, a friend, a child, a parent, a job, or a home. For a mother, loss might be the loss of the man or spouse she thought would be in her life forever, or the loss of the idyllic dream life she hoped to someday build. Or, maybe your loss is some other thing. But whatever it is, loss is loss, and to experience the abundant life, to THRIVE in the life we've been given, we must first recognize our loss.
We need to look deep within our life and define the loss or losses we've experienced. Maybe the loss is fresh or maybe it is from years before, but once we recognize and name it, we will know more assuredly what we are dealing with and what it will take to move forward into abundance.
Next, take the time to reflect on the loss. How does it make you feel? After Hayden passed away, our oldest son struggled to explain how he felt about the loss. He wouldn't talk about it, he would stay in his room, and at the slightest nuance he would get angry. Our son, who was living under the same roof as us, seemed farther away than our son who was now abiding in Heaven. You see, as we experience loss, we all grieve, but we don't always understand our grief. In this confusion, a person can suppress the grief, causing it to show up in some other way.
"But when we actually reflect on our loss, allowing ourselves to grieve, we let all that is building up within us to pour out, so there is more space for Jesus to pour in.
There are many stages of grief: anger, sadness, yearning, guilt, regret, withdrawal, and denial. However, these stages aren't set and don't have a particular order to how they develop within us. Grief just comes, and the more we pour out the grief through words and tears, the more God can fill those empty places in grief's wake.
After months had passed, we were finally able to sit down with our oldest son and have a heart to heart on the grief and loss he was feeling. We asked him about his thoughts on the accident and Hayden's death, and you know what his greatest concern was — that his little brother was actually in Heaven. Through tears and words, our son released his grief, and we were able to better understand how he felt. We were able to take the time to pray for God to reveal the answer to his concerns and fill him with confidence of Hayden's eternity. From that moment on, our oldest was no longer stuck in his grief because he was able to reflect on it and Jesus filled each empty place.
Once we reflect on our loss, we must redefine our loss into joy. Take the time to remember the good things during the period before and during the loss. Use these good memories to strengthen you for the future.
"When we dwell on the loss alone, a bitter root can begin to grow, but when we reflect on the loss as a time of Joy, the bitter root can turn into abundant fruit.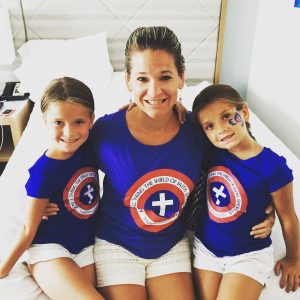 Each year on January 4th, if all we focused on was Hayden's death, we would miss January 5th, our oldest son's birthday. Instead, on January 4th, we wear Captain America t-shirts in honor of Hayden, focusing more on a celebration on the date of his birth in February.
After you begin to redefine your loss as joy, it's time to realize the gifts you still have. No matter the loss you've experienced, there are still gifts sitting right in front of you. If we just forget the gifts we still have, we forget ourselves and can begin to fade away instead of thrive.
In this time, I suggest doing three things:
Be Active:
Walk, run, swim, play — do things that allow us to breathe in the fresh air God has given us in His creation, to get the gift of our natural endorphins moving, for extra healing and health.
Be Brave:
Lean into the Lord, even when it hurts. Accept the gift of communication with Him through prayer, even when we have nothing to say; go to church for community, even when we don't want to see people; and read the Bible, God's Word, even when we are confused and asking "why?"
Be Creative:
Journal, write, draw, paint, or sing. It's in those creative motions that we are worshipping the one who created us in the depths of our mom's womb and gifted us with ways of glorifying Him.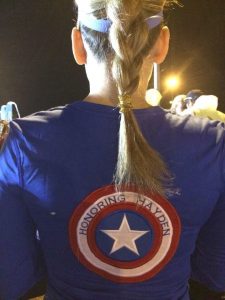 Then, at this point, we will really THRIVE.
When we begin to live again and stop dwelling on our loss by cutting the bitter root that wants to hold us down, we can live abundantly by running the race we've been given to run. When we run our race, we think of others more than ourselves, and we allow the world around us to see Jesus glorified. In that first prayer after Hayden's funeral where I truly felt an open line of communication between Jesus and myself, Jesus truly told me to run. He told me to run the marathon I'd been training for in honor of Hayden. Jesus spoke into my heart, that even though I was at my weakest self, He was strong and would carry me through.
"And that is what I did. I ran. As I came around the last bend a choir was singing "Hallelujah," and I knew it was "Well with My Soul."
This is how we can thrive through loss, each of us, no matter what our loss may be — by living the abundant life God has given us.
When we recognize our loss, reflect on our loss, redefine our loss as Joy, and realize the gifts we still have, we can REALLY thrive and glorify our God in Heaven, so others can see HIM!