By: Kristen Hitchcock
Executive Director, One More Child Single Moms
Mother of Hunter, Hannah, Hayley and Hayden
Mothers lead busy lives, but making time for self-improvement, rest and reflection is just as important as all of the many things we do for our families.
At One More Child, we want to empower women to do more than just survive motherhood, but to learn to THRIVE in it. Our new webinar ands us a big, fat "L?"
Well, first, let's determine what it means to thrive.
Jesus tells us that He came to bring us life and long-suffering.
With this in mind, I believe we thrive when we live our life in such a way, that no matter the circumstances or past experiences, we bear love, joy, peace, patience, kindness, and others see the Glory of God. This is thriving!
"The problem many have with thriving is we do well to live abundantly as long as things are going well, but if we experience loss, we no longer know how to live.
You see, I learned what it means to thrive because of loss – the kind of loss no mother or family ever wants to experience: the loss of a child.
January 4, 2015 began like any normal Sunday in our household. We woke up as usual, I went for my last training run before my first marathon, and brother. As we headed back toward the farm, we received a phone call no one ever wants to receive. On the other side of the phone was my brother, in hysterics, telling us to get to the hospital immediately, because our youngest son had been in a horrible accident.
Walking into the hospital, we could see horror written on the faces of the nurses. "You can't go back," they said, "The doctors are working on your son."
"When we dwell on the loss alone, a bitter root can begin to grow, but when we reflect on the loss as a time of Joy, the bitter root can turn into abundant fruit.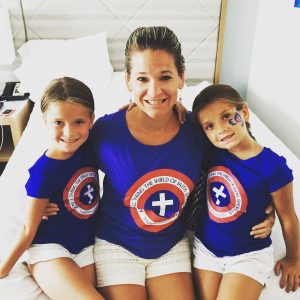 Each year on January 4th, if all we focused on was Hayden's death, we would miss January 5th, our oldest son's birthday. Instead, on January 4th, we wear Captain America t-shirts in honor of Hayden, focusing more on a celebration on the date of his birth in February.
After you begin to redefine your loss as joy, it's time to realize the gifts you still have. No matter the loss you've experienced, there are still gifts sitting right in front of you. If we just forget the gifts we still have, we forget ourselves and can begin to fade away instead of thrive.
In this time, I suggest doing three things:
Be Active:
Walk, run, swim, play — do things that allow us to breathe in the fresh air God has given us in His creation, to get the gift of our natural endorphins moving, for extra healing and health.
Be Brave:
Lean into the Lord, even when it hurts. Accept the gift of communication with Him through prayer, even when we have nothing to say; go to church for community, even when we don't want to see people; and asking "why?"
Be Creative:
Journal, write, draw, paint, or sing. It's in those creative motions that we are worshipping the one who created us in the depths of our mom's womb and gifted us with ways of glorifying Him.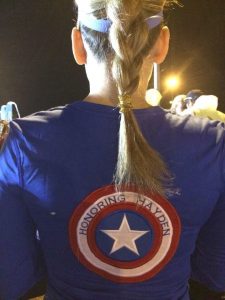 Then, at this point, we will really THRIVE.
When we begin to live again and I knew it was "Well with My Soul." "]
This is how we can thrive through loss, each of us, no matter what our loss may be — by living the abundant life God has given us.
When we recognize our loss, reflect on our loss, redefine our loss as Joy, and glorify our God in Heaven, so others can see HIM!