When you see Erika*, her smile and positive attitude make it hard to believe her life has been anything but a bed of roses. Erika is proof that determination and the right support can make all the difference.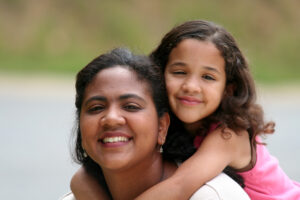 Her mom was a drug addict, and eventually, Erika was on grandma's watch. By the time she was in the 10th grade, Erika was pregnant and a high school drop-out.
With nowhere to turn, Erika quickly married her baby's father, but the marriage did not last. Still, Erika never lost hope. "Somehow my willpower was stronger than what I had been through," she said.
One More Child is where Erika turned for help when she needed baby formula and had six children to provide for. Our Family Support workshops helped her learn effective parenting and money management skills while deepening her relationship with Christ.
"I like being in this place. I don't feel ashamed to say I have a need. I have overcome so much, and this program has been there to help me along the way," she said.
Recently, Erika achieved a huge milestone as one of the first graduates of our Jobs for Life program.
Your giving has helped Erika confidently say she feels God watching over her as she gets ready to begin nursing school! Thank you for your impact on Erika's life!