Jacksonville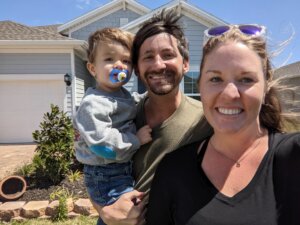 From birthday parties to prayer room warriors, Leslie and Kyle Allen are known for the way they intentionally celebrate those around them – especially in the little ways.
After deciding to open their home to fostering in 2021, a radical act of obedience led the Allen family to receive their first foster child only one day after getting their license. The Allen's desire to be intentional with their children and the biological families, which means going to whatever lengths necessary to fulfill this goal.
The Allens have shown unwavering support to their children by praying with the biological mother through her job search, renting space over the holidays for the children's mom and dad to see them on Christmas, and inviting siblings in another foster home to a birthday party.
The Allens share the love of Christ with every child who is in their home – especially in the little ways.
Vote the Allen family for 2022 Foster Parents of the Year!
Voting closes at 11:59 p.m. on May 20.
VOTE