Lakeland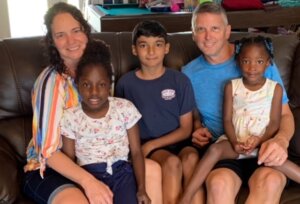 Ten years of faithfulness to the Lord's calling. Rhett and Victoria Martin continue to serve children who need love in their darkest times.
The Martin family was originally licensed in South Florida in 2013, and transferred to One More Child in 2017, caring for seven children since. As their family continues to grow, so does their hunger to serve the Lord. 
Because of their experience with foster care, the couple leads a foster parent support group in a county with little resources for those fostering. Sunday church attendance is mandatory as they continue to show the love of Christ to foster children and those around them. 
"The Martins live a life that exemplifies Christ and family and love. The Martins have given the last 10 years of their lives to help the helpless."
Vote the Martin family for 2022 Foster Parents of the Year!
Voting ends May 20 at 11:59 p.m. Maximum 10 votes per email.
VOTE