Anyone can do great things in the anti-trafficking movement.
Many of us set out to do great things, and doing something great often begins with solving a problem.  
For Cassandra Maximillien, One More Child's Director of Partnerships, being part of the solution for vulnerable children, women, and families was what she set out to do when she joined the organization. Fresh-faced and ready to make a difference early on in her new position, she went big.  
"I sent out a mass email to all One More Child directors with an offer to help," said Maximillien. It was bold and open-handed, an invitation for the Lord to move. And she got a response. 
The Director of Anti-Trafficking, at that time, personally knocked on Maximillien's office door to engage Maximillien in a problem that needed solving – the limited availability to ethnic-friendly hair care products. 
Though nationwide statistics differ, most human trafficking organizations report that more than 40 percent of human trafficking victims are children or women of color. Some numbers rise as high as 84 percent. When the Director of Anti-Trafficking came knocking, she cited 52 percent as the most recent number. And she was concerned. 
When a survivor begins in our Anti-Trafficking program, one of the many benefits they receive is donated self-care products to not only help the survivor feel cared for and supported as they transition out of their circumstances, but also to help the survivor rebuild something they lost when they were trafficked – trust. 
Traffickers often identify something a vulnerable person needs, and promising to meet that need, creates a sense of dependency. Hair care for women is costly, in general, and can be a lever used by human traffickers to manipulate a victim into staying in the system. 
"It's not that we don't get hair care products donated – it's just that the products we get are not suitable for all the girls in our program. And with the statistic given, that's almost half of the girls we serve. We need ethnic-friendly hair care products," the Director said. 
As a woman of color herself, Maximillien empathized with the reality of this problem. She gave careful consideration to how she could best meet the need. With the care and attention of someone deeply invested, Maximillien personally curated products and haircare tools that would demonstrate the love of God to every person of color supported by One More Child programs.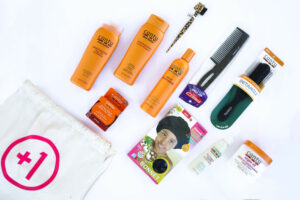 After careful consideration, she decided on ten Cantu products that "bundled up" in a drawstring bag include an edge control brush and product that help lay down fly-aways. Without access to items like these, individuals were found using toothbrushes and toothpaste to keep stray hairs laying down flat. Each Bundle can last up to six months. 
Bundles are an open door to independence, confidence, and freedom for current trafficking victims and for survivors in recovery, so true to its original intent, Bundles are prioritized for human trafficking survivors. Bundles make a difference for One More Child Foster Care and Single Moms programs, as well. It's an initiative that turns an intention to care into action that resonates.  
Each Bundle costs $60. Once you make your gift, the One More Child team is alerted to resource the products, assemble the bag, and put your gifted Bundle into the hands of someone who needs it. 
Consider a recurring giving to One More Child's Bundles and support this initiative all year long! 
GIVE BUNDLES