We Need Diapers
MORE THAN EVER
Vulnerable children and families are in need of help, now more than ever before! We invite individuals and organizations to come alongside us to help meet our 1,000,000 diaper goal this year.
Our greatest need is diaper sizes 3, 4, 5, 6 & pull-ups.
Ways you can help:
Churches, organizations and individuals can:
I've signed up! Now what?
We are so grateful you have decided to partner with One More Child to help make a difference! We want to equip you in every way possible to make your fundraiser a success!
DOWNLOAD DIAPER DRIVE RESOURCES
Looking to take your diaper drive to the next step?
Here are just three simple steps to starting a fundraiser through Facebook!
facebook.com/fundraisers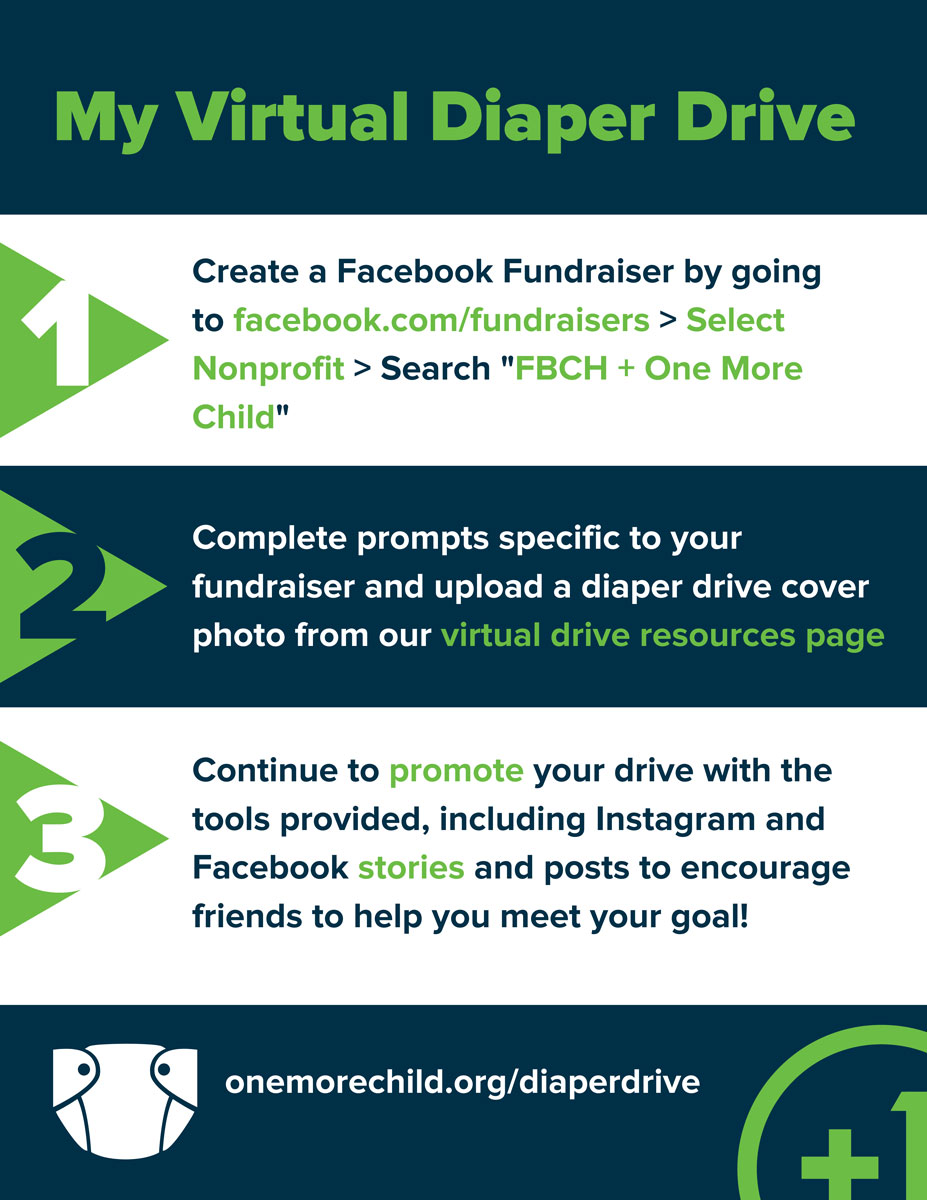 Diaper Drive Drop-off Locations
Call or email to set up an appointment before dropping off.
Due to COVID-19 and staff limitations, please call ahead to schedule diaper drop-offs. All appointments at this time are BY APPOINTMENT ONLY. Thank you for your generous support to our 2021 Diaper Drive.
★ = One Box, One Day Drop Off Location
Brevard Baptist Association
Office
4235 U.S. Highway 1
Rockledge, FL 32955
Office Hours: 9:30am- 4pm Monday- Thursday
Contact Info
321.631.0820
office@bbatoday.org 
Lakeland
★ Campus
1015 Sikes Blvd.
Lakeland, FL 33815
Contact Info
863.687.8811
Pensacola
★ Campus
1000 Chemstrand Rd.
Cantonment, FL 32533
Contact Info
850.968.1114
Pensacola.FL@FBCHomes.org
(*by appointment only)
Bradenton
★ Office
Azinger Family Compassion Center
3478 Bouwer Court
Bradenton FL 34221
★ = One Box, One Day Drop Off Location