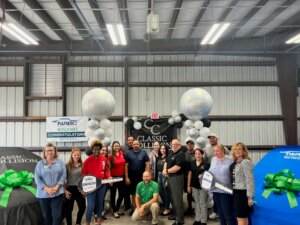 A single mother of three girls is on the road again thanks to the partnership between One More Child's Single Moms program and GEICO's Recycled Rides program. Our partnerships continue to empower single moms and struggling families.
Nalaura purchased her previous car using her last year's income tax return, but after the transmission failure in her 2003 vehicle, the cost of repairs was higher than the car's value – a significant challenge for this family led by a single mom.  
With the generous donation of a 2013 Ford Escape from GEICO, this mom can now pick up her children from school and daycare while actively pursuing more stable employment and striving for total independence.
One More Child's Single Moms program works tirelessly to empower single mothers to overcome the many barriers to independence, including financial ones. Addressing this mom's transportation was imperative to her success in the program, so GEICO's Recycled Rides program was a match made in heaven. 
Through its program, GEICO plays a crucial role in offering dependable transportation to individuals navigating challenging circumstances. This initiative has a profound and positive effect on those facing transportation challenges, empowering them to overcome barriers and strive toward self-sufficiency. 
Expressing her gratitude for the support she received, Nalaura emphasized the significant impact the donation has had on her life, empowering her to remain steadfast in her pursuit of personal and professional growth. 
The Strength of a Single Mom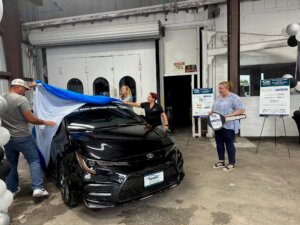 Single mothers shoulder the weight of providing for their families, often with limited support and little assistance. In the United States, there are over 12 million children residing in single-mother households. Within the caring community of One More Child, we have encountered numerous single mothers who, when embraced by the love of Jesus Christ, demonstrate remarkable resilience and unwavering perseverance. They possess the strength to overcome challenges and maintain a hopeful outlook for their families.
At One More Child, we aim to offer aid to vulnerable families through our 10-week Single Moms program, a carefully crafted experience to provide guidance and support. This program walks alongside single mothers as they navigate toward self-sufficiency, ensuring they receive the necessary tools and assistance.
As stories like this unfold, strategic partnerships like those between One More Child and GEICO are an essential way to make a difference for families like Nalaura's. 
One More Child continues to partner with GEICO to give not only single moms, trafficking survivors, and struggling families vehicles that provide vital transportation to work, school, and meet other family needs. We have seen the gift of reliable transportation result in promotions at work and the ability to offer children involvement in enriching extracurricular activities.
Launch a Single Moms Community Program
Did you know you have the power to make a meaningful impact on the lives of single moms in your community? Empower single moms and launch a Single Moms Community Program through your church. You can give mothers the tools to rewrite their stories of struggle into testimonies of triumph on their journey to self-sufficiency!  
Your "yes" can transform lives and create a brighter future for single moms and their children. Learn more.