Pensacola College Students Pack 75,000 Meals for Children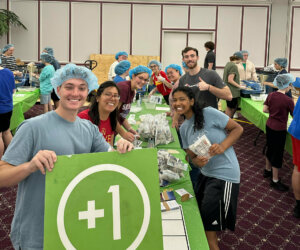 Over 37 million children and adults in the United States struggle to access nutritious food, a staggering statistic that demands action. One More Child and Pensacola Christian College (PCC) recognized this need and took a bold step towards alleviating hunger in their community.
On March 25, One More Child hosted its largest Meal Packing Party to date, a day filled with excitement and purpose. More than 200 supporters converged on the Pensacola Christian College campus to pack 75,000 meals, breaking records and setting an example of what can be accomplished through heartfelt, collaborative generosity.
The atmosphere was electric, a palpable energy that could be felt in every corner of the room. Volunteers, young and old, worked together with a common goal in mind: to make a tangible impact on those struggling with hunger – a testament to the power of unity and a reminder that even the smallest contributions can add up to something significant.
But it wasn't just about the meals. 
MAKING A DIFFERENCE BEYOND PENSACOLA
One More Child's mission to support vulnerable communities was also highlighted, and participants learned about the many ways they could make a difference beyond the Meal Packing Party.
The meals packed were distributed to strategic community partners who supply direct care and resources to the Miami refugee population and six Pensacola ministries. The impact of this effort was immediate and far-reaching, providing a glimmer of hope to those who struggle with food insecurity every day.
JOIN THE MOVEMENT
Whether you are an individual, business, civic group, or sports team, you can make a significant impact on your community and beyond. Together, we can work towards a future where no one has to worry about where their next meal will come from.
Join this movement towards ending hunger to learn more about hosting your own Meal Packing Party.