We Need Diapers
MORE THAN EVER
Vulnerable children and families are in need of help, now more than ever before!
We invite individuals and organizations to come alongside us to help meet our 1,000,000 diaper goal this year.
LEARN MORE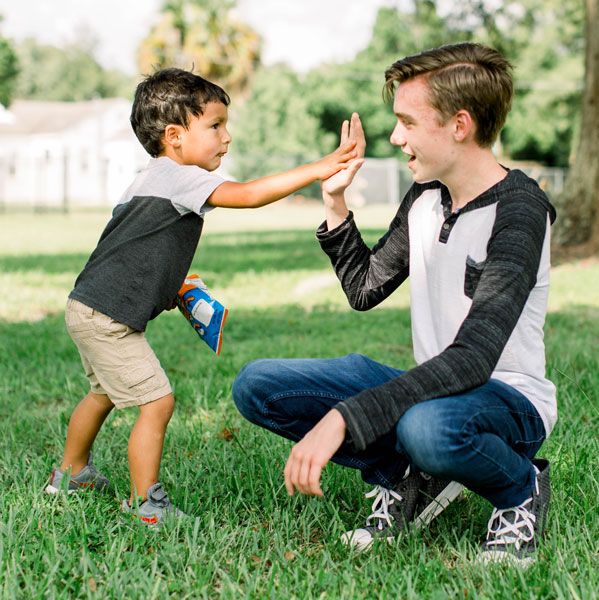 You can be a hero in the life of a hungry child, foster child, trafficked child, single mom or struggling family.
LEARN HOW
This is how we do everything we do.
One More Child brings hope to the whole family. Explore our services to see all the ways we help.
Our Mission
They are the Scott family, and
THEY ARE ONE MORE CHILD
In hopes of finding work in the midst of the Great Depression, the father of Jerry, Frank, Vay and Charles Scott left home. He never returned.
Their mother, Lois Scott, worked diligently to provide for them, but sadly she became stricken with pneumonia. During one of her final days she asked her eldest son, Jerry, to keep the family together – and Jerry promised he would.
Once orphaned, the four siblings (see photo top right), as well as their half-sisters, Paula and Doris, went on to live on our first campus in Arcadia, FL.
Jerry Scott, who passed away at the age of 92 in 2019, often said that the foundation of his Christian faith started being formed the day he set foot on our campus.
More than eight decades after the Scott siblings arrived in Arcadia, the success members of the family have achieved is staggering to consider. The Scott family lineage includes missionaries, military servicemen, teachers, lawyers, doctors and successful athletic coaches, including current University of South Florida head football coach Jeff Scott (Jerry's grandson.)
But ask any one of the family's patriarchs or matriarchs over the years what their greatest feat was and you'd likely hear: "Creating a legacy firmly established on Jesus and the importance of family standing strong together."
Today, in a world that moves faster than ever before, it is worthwhile to reflect on the impact made on five generations (the great-great grandchildren of the Scott siblings are part of the family today!) because of the faithful obedience of people doing everything in their power to simply help "one more child."
Your generosity can make a difference in the life of a child.
meals served to children and individuals
diapers provided to children in need
#ONEMORECHILD
KEEP CONNECTED