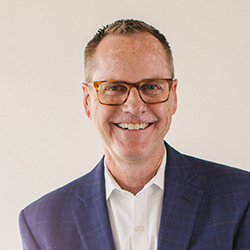 Jerry T. Haag, Ph.D., CFP®
President/CEO
Dr. Jerry Haag is the president/CEO of One More Child. During his tenure as president, he has guided the expansion of ministry sites from nine locations in Florida to more than 60 locations around the globe. Under his presidency, One More Child has launched its Anti-Trafficking, Child Hunger, Single Moms, Family Support (prevention) and Global programs to meet immediate and long-term needs of children and families. Under Dr. Haag's leadership, One More Child has increased from serving 3,351 children and individuals in 2007 to 236,492 in 2022.
Dr. Haag earned bachelor's and master's degrees in finance from Baylor University and earned a Ph.D. in finance and real estate in 1995 from the University of Texas at Arlington. He has led and participated in humanitarian aid, emergency relief, childcare and ministry to children and families in countries around the world.
Dr. Haag was appointed to serve on the Florida Faith-based and Community-based Advisory Council by 3 governors and served as the chair. He also serves on the board of directors of the Christian Alliance for Orphans (CAFO), where he has chaired its Faith and Foster Care Research Team and served on the President's Advisory Council.
In addition, Dr. Haag is a member of the Forbes Nonprofit Council as well as the National Foster Care Collaborative – a national collection of organizations that seeks to deliver lasting, systemic change in child welfare. He also serves on the Child Welfare Innovation Working Group through the American Enterprise Institute in Washington D.C.
Because of Dr. Haag's experience and leadership in launching global, prevention, and anti-trafficking programs, he has been invited on numerous occasions to share our organization's expertise with national and world leaders – to include the United States Health and Human Services, the White House, the President's Office of the Dominican Republic (in coordination with President Danilo Medina) and the Office of the First Lady of Guatemala (in coordination with First Lady Patricia Marroquin de Morales).
Dr. Haag is passionate about long-term policy change to impact vulnerable children, and he had the pleasure of participating in a distinguished seminar on Religion and U.S. Foreign Policy, sponsored by the Institute on Culture, Religion and World Affairs at Boston University.
He preaches regularly in churches throughout the nation, and he and his wife, Christi, also enjoy speaking together. Additionally, he has authored, presented and published academic articles relating to his business expertise and has been honored several times for his business, professional and civic achievements.
In 2018, Dr. Haag was awarded the 2018 George W. Truett Distinguished Service Award by the Baylor Line Foundation and was honored at its Hall of Fame Gala for his exceptional leadership in meeting the needs of children around the world.
Dr. Haag has served on the faculty and administration of both public and private universities, and he was named Baylor University's Vice President for University Development in 2011, where he served before returning as president of One More Child.
From 2000-2007, Dr. Haag served as president and CEO of the South Texas Children's Home in Beeville. He also has corporate work experience with AT&T and is a Certified Financial Planner.
Dr. Haag and Christi have been married for more than 3 decades and live in Lakeland, FL. Christi is a renowned speaker, thought influencer, and spokesperson for One More Child. Their eldest son, Ben and his wife Maddie live and work in Dallas, TX and their youngest son, Brady and his wife Katie reside and work in Denver, CO.