Reflect on the Blessings of Thanksgiving
For many, Thanksgiving is a time of joyful fellowship and grateful hearts.
We set our savory meats and delectable pumpkin desserts at the center of dining tables long enough to host our own buffets with room for everyone at the table. The playful banter of family jokes and reminiscing of Thanksgiving's past hangs above the room, and we sit comfortably in our homes, knowing we are cared for and full.
What about the families who will not have a Thanksgiving meal around the table? 
There are many struggling to get through the holiday season. As we serve children and families, God's incredible faithfulness protects the vulnerable, sustains the struggling, and restores the broken. This is clearly demonstrated in Gina's* story.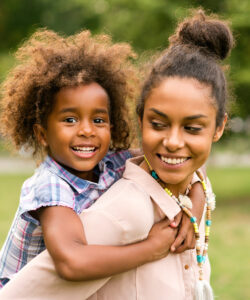 Gina* is a single mother who has faced many obstacles. She worked hard to provide for her children but knew it was still not enough. As she adjusted to the tough demands of life, Gina and her children moved from house to house. They never stayed in one place too long. She wished her children could have more than what she was able to provide. In desperation, she cried out, uncertain of where to go next.
Most days, her children's reassurance that "God is in control" was all she needed to get through the tears. Some days, it was not.
One night, while scrolling through Facebook, Gina found One More Child and learned about the care we offer struggling single moms. She applied and shortly after was accepted into One More Child's Single Moms program. Gina was so grateful, but when she and her children walked into their new home on one of our campuses, all her worries were relieved.
Her children's eyes lit up in disbelief as they asked, "This is all for us, Mom?"
She cried tears of joy as she felt the weight she had been carrying for so long began to lift. With One More Child's support, Gina could graduate from college, ensuring stability and safety for her children.
As a result, Gina expressed her gratitude and shared,
"I could not have reached this point without the grace of God and One More Child. My children used to watch me cry myself to sleep, but now they remind me daily to pray and give thanks for many blessings!"
You Can Help Us Serve Hope this Thanksgiving
Now, because of the generosity of people just like you, Gina and her children not only have a Thanksgiving meal to eat but also a table to sit around – together.
We continue to hear stories daily of the many ways the ministries of One More Child impact children and families. Can we count on you to help one more family rewrite their story of struggle into one of hope? Your finanical gift will positively impact the futures of children like Gina's in our care.
*Names changed for privacy.