Five-year-old TJ Moreno was greeted by a line of cheering staff as he and his family arrived at One More Child's Harold Clark Simmons Compassion Center in Lakeland with three carloads of diapers for foster families and children in need.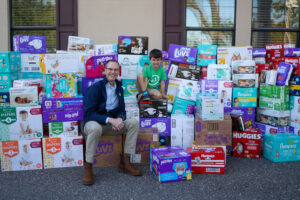 Last year, when TJ learned that some moms could not afford diapers for their kids, TJ handed his piggy bank to his parents and said he wanted to help. He set out to collect 30 boxes because that's how high he could count at the time.
This year, TJ set a goal of collecting 100 boxes. With the help of friends, family, neighbors and local businesses, he exceeded his goal and ended up with 162 boxes totaling 14,842 diapers to donate!
One More Child's Diaper Drive is a fundraiser to collect 1,000,000 diapers for foster families, single moms and struggling families! Diapers are essential, and we intend to help as many families as possible!
We are thankful for TJ's compassion and generosity, and we are inspired by his determination to jump into action when he heard others are in need. Take the TJ challenge and donate diapers to children and families today!
Watch TJ's Diaper Drive Challenge: