In its years of service to single moms, One More Child has walked alongside countless mothers who desire nothing but the best for their children. We know firsthand that many of these precious moms lack the resources to provide even the most basic needs for their families. Single mothers are among the most vulnerable, working tirelessly to provide a future filled with hope and possibility for their children.
Colombia is no exception. Though there have been improvements since 2020, economically disenfranchised citizens remain in poverty, and food costs are an increasing concern. Civil unrest and lack of access to quality education continue to haunt the country, while spousal and child abuse remain significant issues. Furthermore, the arrival of 1.7 million Venezuelan migrants by the end of 2020 has further impacted vulnerable families.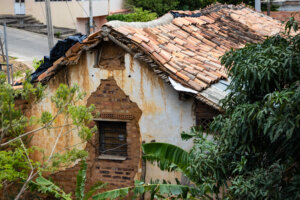 Family is culturally one of the most important aspects of Colombian life, but women face high rates of unplanned pregnancies causing them to marry incredibly young or not at all. According to the Colombia 2022 Human Rights Report, 5% of girls were legally married before they turned 15 and 23% married before they reached 18. Sadly, only 20% of the population between 18-49 is married at all.
We want to share with you the stories of Jasmin, Amanda, and Roxana.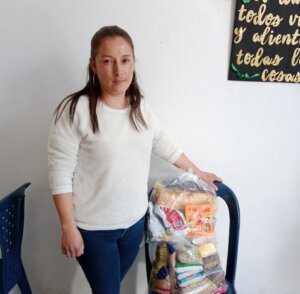 Jasmin, a single mother of two, recently received devastating personal news, causing her overwhelming anxiety. Struggling to care for herself and her children, she turned to One More Child for emergency help and counseling through our church partner. We shared the Gospel with her, and she and her children accepted Christ. Now, they attend church and discipleship classes, receiving the support, stability, and encouragement they need to work towards a better life.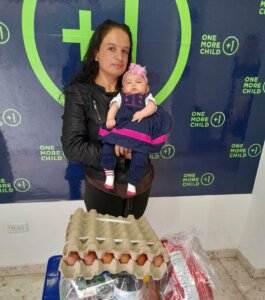 Isabela, a six-month-old baby girl born prematurely to single mom Amanda, faces a difficult future. The family struggles to meet their basic needs, and Amanda has been unable to find a job. However, Isabela entered One More Child's sponsorship program in November, providing Amanda with a sponsorship food basket to meet her children's nutritional needs.
Roxana, a mom of three with her fourth on the way, fled to Colombia from Venezuela seeking refuge. She lived in constant fear for her life due to domestic violence from an unstable partner. While most pregnant women think about decorating their child's room, Roxana worried about their safety, where they could live, and how they would eat. Now a single mother, One More Child's partners in Colombia provided spiritual, emotional, and physical support as she welcomed her fourth child, something Roxana feared she would not be able to do. But God used the women of the church to strengthen her and encourage her to continue growing the new life that was forming in her womb. We ask for your prayers for this child's life that we recently welcomed into the world!
Through our global ministry, One More Child is honored to provide support and hope to mothers like Jasmin, Amanda, and Roxana. We thank God for the privilege of being the hands and feet of Jesus to these precious families, and we thank you for your continued support and prayers.