One of the ways One More Child supports Single Moms is through a residential program in Florida that offers single mothers and their children a life-changing opportunity to live in a supportive home environment for one year. With a focus on financial empowerment, skill-building, and long-term stability, this program is instrumental in empowering single moms to rewrite their stories and create a foundation for a brighter future.
What does a "brighter future" look like? When you say "yes" to supporting One More Child's Single Moms program, you are making an impact.
You impact every residential campus...
This year, One More Child's Single Moms program implemented a new evidence-based parenting program on all its campuses to empower parents with tools, boost their confidence, and generate positive outcomes in child behavior. The program is designed to help improve parenting confidence, producing positive behavioral outcomes in children.
The program has two unique versions for moms of children ages 0-12 and moms of teenagers and is especially valuable to our moms of special needs children.
If you have a heart for single moms but don't live in Florida, One More Child offers a scalable Single Moms Community program you implement where you live use to support single moms. Learn more…
Several of our single moms across the state have already completed the program, and we are receiving positive feedback.
"[The program] has helped me to try different ways to discipline or even get my son to follow the rules that I have set. For example, if 'my son' does something that I don't approve of I send him to quiet time for two minutes, but if he does something good, he gets praised for it. [The program] is really making parenting a little bit easier for me as a mother of two." – Single Moms program participant
You impact struggling families...
In Gainesville, we developed a relationship with a new community partner church to update the landscaping, making it a safer, cleaner, and more beautiful campus.
Four moms obtained housing vouchers and moved into their own homes or apartments. One of those moms purchased a vehicle after completing the program. Another of those moms received a One More Child scholarship to complete certifications to allow her to advance in her job.
In Jacksonville, Church 1122 helped redecorate one of the homes. We added framed family photos before the new mom moved in, learning that this personal approach fosters a sense of belonging, facilitating their adjustment and contributing to their success. Another mom completed the program and secured affordable housing.
We celebrate one of our moms who successfully completed the program and found affordable housing within walking distance of her job, and her child's preschool, saving her so much time for travel and giving her more time with her child.
In Tallahassee, the supervisor established new community relationships, resulting in financial donations benefiting the program and serving as a valuable referral source.
After the program, one mom not only started her own business but also purchased a home. This success will not only create financial and housing stability for her children but also give the family an entirely different life trajectory.
In Miami, a single mom saved $15,000 towards purchasing a future home. At first, she hesitated to join the program because her rent was already low at the time, but this mom wanted to be able to save to buy a house to provide more stability for her family. On the day she received acceptance into the Single Moms residential program in Miami, she also received a job promotion. She knew it was a Godsend. While at the Miami campus, she built long-lasting friendships and recognized the significance of deepening her relationship with the Lord. When she completed the program, she took the money she saved during the program and relocated out of state for more affordable housing options. Having this mom as a participant in our program has been an incredible blessing, and we eagerly anticipate her and her children's bright future.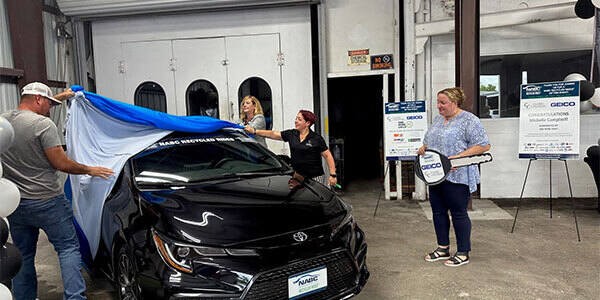 The Lakeland campus was full of excitement with Geico generously gifting cars to two of our Lakeland moms. One recipient was a hard-working, single mother of two who is currently a nurse at Central Florida Heath Care working toward furthering her career in the medical field. The other recipient is a single mother of a two-year-old with a baby on the way.
Another mom on the Lakeland campus graduated from Keiser University with an Associate of Science in Physical Therapy, passed her state boards, and secured a job enabling her to be self-sufficient. Also, not one but two other moms in the program can purchase their own homes after successfully completing our program.
About the single moms residential program.
One More Child cannot do this vital work without your support. When you contribute to the Single Moms program with your financial gift, you give a single mom:
Residency: Participants and their children are given a safe and nurturing home for one year, offering sustained stability for the program.
Community and Support: Dedicated mentors offer Christ-centered guidance and support while fostering connections with local church communities.
Skill-Building: Weekly workshops and mentorship opportunities equip moms with essential skills in budgeting, career counseling, and parenting. Through these programs, moms gain knowledge to make informed decisions and create a nurturing environment.
Financial Empowerment: As part of the program, single moms must save 30% of their income throughout the year, fostering a culture of financial responsibility and economic independence.
Path to Self-Sufficiency: Upon completing the program, many single moms experience remarkable transformations, achieving self-sufficiency and overcoming the challenges they once faced. A significant number go on to purchase their first homes or secure stable housing.
Last year (2022), the program served a total of 203 moms and children, with an impressive program completion rate of 88%, reflecting the effectiveness of the program in supporting these families.
Say "yes" to supporting single moms right now.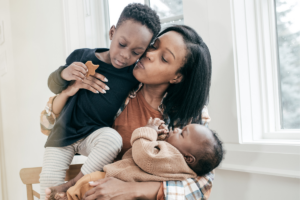 Whether you have a heart for single moms, were raised by one, or have been one yourself, you can make a difference in the lives of the vulnerable children and struggling, single-parent families we serve.
Through the Single Moms program, One More Child demonstrates its commitment to empowering single mothers on their journey to self-sufficiency and helping them build stable futures for themselves and their children.
Will you join us in supporting Single Moms in our residential program? You can also learn how to support single moms in the community where you live through our Single Moms Community Program.