Her parents were always fighting. They would fight, break up and then get back together. One day as Michele's mom prepared to leave for the umpteenth time, things took a tragic turn: Michele's dad loaded up his gun and shot and killed her uncle, who was there to help mom escape. Things would never be the same.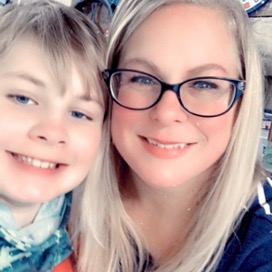 Following that incident, Michele, her mom, and older sister left Texas and moved in with her grandparents in Florida. A few short months, and mom was gone, and the kids were placed in foster care. Years later, mom and kids reunited but the honeymoon period was short lived.  Michele's mom started abusing alcohol and selling drugs. At 13, Michele went to live with one of her teachers, and at just 17, after a drug bust at her mom's place, Michele was granted full custody of her baby sister. Long before adulthood, Michele had seen more than any young girl should. It dampened her hopes for a bright future and clouded her vision of ever being a good mom.
The test would come years later when she had her son.
"I am a notorious workaholic," she said, "I didn't know how to be a mother. I knew I needed help."
Michele saw herself making some of the same choices her mom had made, and as she sat in a bar one day, she knew in her heart, things had to change.
It was a Facebook friend who invited her to a lady's Bible study. Michele remembers just sitting and crying for the first three meetings. When she re-dedicated herself to the Lord, Michele felt her life was finally on the right track. One day she heard about a single moms group starting at a local church. It was what Michele had longed for.
"It was there I learned to pray for my child," she said. "I have seen such a change in Logan since I started praying for him. He's now offering to pray for others."
The Single Moms Community Program at the West Orange Dream Center, a One More Child partner church in Winter Garden, Florida, has been a place of growth and redemption for Michele. She is thankful for the support and parenting skills she has learned and feels equipped to lead her pre-teen as a Godly mom. Her concerns about following in her mom's footsteps are now far behind and Michele knows, thanks to the West Orange Dream Center and the Single Moms Community Program, that in fact, she is a good mom!